The Beach, The Ocean, Always Great Pictures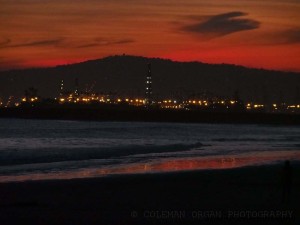 I flew to California a few weeks ago, business as usual. It had been many years since my last visit to the golden state so I was excited, as I always am to travel to a new place. Los Angeles. LAX. As I waited at the baggage pickup, I saw three armed policemen with assault rifles. "I'm not in Kansas anymore", I thought. That balanced my joy at seeing airplanes from all over the world as we taxied in: United Emirates, China, Canada, aircraft I don't see at our New Orleans airport.
Off I went to the hotel, in Long Beach. Checked in, time for a drive, as usual. Explore. On the way in, I passed the Pacific Coast Highway. When I first heard of it, I assumed it was just a road along the beautiful coast of California. To my surprise it was more like a big avenue; fully commercialized, at least as it ran through Long Beach. I drove south for an hour, as it was late in the day and as the sun set, returned to the hotel. Although the Westin in Long Beach overlooks the Pacific, it isn't on the beach. So, I knew that after tomorrow's business I would have to drive south again, out of town. One rule of photography that never fails when on a tight schedule, find the water. Harbors, beaches, boats, ships, seabirds. Trust the ocean. It will never disappoint, especially at sunset.
As I drove the highway, I looked west, saw the beautiful sky and knew if I could only get through the houses, stores and shopping centers, I would be rewarded. I simply took a right and drove toward the beach. After a bit of a search, I ended up at the Long Beach pier, next to a public parking lot. I slogged up the sand berm in dress shoes and onto the beach. Surfers, swimmers, photographers shooting the sunset. it was quite a show.
I shot the sunset, as I stood on hardened sand that was being slowly covered by the rising tide. Dress shoes be damned. I could smell the salt air. It lifted my spirits and washed away all of the day's grabbing details. It's a sense of freedom I can only find away from home. Alone, seemingly as always. That irritating reality that necessarily accompanies the making of art.
I kept shooting as the light faded with a wonderfully red sky, seagulls, beach walkers, surfers and our small group of photographers spread out, but snapping away as the sun set.
And, as if on cue, a surfer turned to survey the end of the day. Maybe for signs of a last wave or just to smell the salt air and feel totally alive.